Steering & Suspension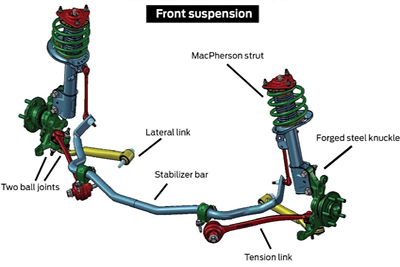 Every vehicle has a steering wheel, right? And we all know what steering does for a vehicle, true? Steering makes the car change direction, and allows the person driving to make turns, control the vehicle, and drive with the flow of traffic, rather than impeding it.
Your vehicle's rack steering pinion is one of the components of your steering system that helps maintain your steering alignment in it's natural, and optimal state of functionality. The vehicle's rack pinion steering parts are connected to the steering box itself, which helps link the steering wheel to the wheels and axles of the vehicle.
This is one of the remarkable things about the steering suspension system in any vehicle. More than many other auto parts systems connectivity, a vehicle's rack pinion steering, steering box, and all other parts are integrally linked together to provide the maneuverability needed to make your car function in the best possible manner.
Call Us For All Your Steering And Suspension Needs! 773-596-1331
Steering suspension is also important, especially for vehicles with power steering, as it helps set the tire and axle alignment of your vehicle's steering wheel too. Most people are taught to drive with their hands on 10 and 2 in their car driving lessons, and in order for the vehicle one drives to have that comfortable wheel placement, the steering suspension has to align well with all other parts of the steering system in your vehicle. If your car feels like it's steering is getting harder to maneuver it may just be that it is low on power steering fluid, or it may be that your vehicle has encountered a more serious issue, and that needs addressing immediately. Gateway Auto should be your first choice in car maintenance, and we are proud to support that claim with years of invaluable service to many people.