Brake System Service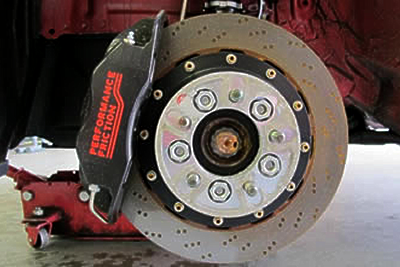 Brake systems are one of the most important parts of any vehicles functioning. Without a properly functioning brake system, your vehicle may end up sliding off the road, running into another vehicle, or be the cause of an accident if you cannot brake effectively and in time. A relatively recent innovation in braking systems is the anti-lock brake system, which has become a hit in the auto industry recently.
Anti-lock brake systems allow a vehicle to extend their braking range as well as increase the brake system's reliability in a variety of different environments, ranging from snowy and icy weather, to rain and flooded conditions, as well as hill and mountain driving.
Call Us For All Your Brake Service Needs! 773-342-7105
Anti-lock brake systems give the driver significantly more control over the vehicle while driving which has the added benefit of making driving easier for everyone around them too. Brake systems are one of the most important systems in a vehicle, and should be treated as such, like we do at Gateway Auto Service.
Brakes are a complicated facet of your vehicle's functioning. They rely on fluid and pumps to provide the exact amount of pressure needed to maintain reliable braking dependent upon the conditions you find yourself driving in. The brake fluid and pumps help monitor the amount of pressure that the is applied on the brakes in relation to your foot on the pedal which regulates how much force is necessary to stop your moving vehicle.
This, along with the brakes pads and shoes, which help keep your rotors and brakes in good condition, are essential to a well functioning brake system. If your brake fluid is too low, you will be unable to regulate how much pressure is being applied to the brakes as efficiently, and if other things go wrong then your safety and others' is at risk too.